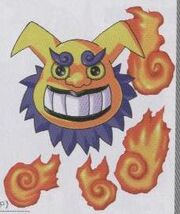 Van (ヴァン) is a demon in the series.
Derived from the Vanir, a race of fertility gods in Norse mythology.
Design wise, however, it resembles more like Kirtimukha from Hindu mythology, or Bhoma and Batara Kala from Indonesian mythology, whose faces are often used in architectrure and mask.
Appearances
Edit
Devil Children Red/Black BookEdit
Van can be ranked up nine times to transform into Van Ou.
Devil Children Red/Black BookEdit
| Class | Element | Type | Exp | Level | HP | MP |
| --- | --- | --- | --- | --- | --- | --- |
| Common | Fire | Evil | 1002 | 49 | 522 | 235 |
| ATK | DEF | MGC | RES | SPD | LCK |
| --- | --- | --- | --- | --- | --- |
| 47 | 44 | 48 | 45 | 44 | 42 |
Devil Children White BookEdit
| Class | Element | Type | Exp | Level | HP | MP |
| --- | --- | --- | --- | --- | --- | --- |
| Common | Fire | Evil | 1002 | 49 | 522 | 235 |
| ATK | DEF | MGC | RES | SPD | LCK |
| --- | --- | --- | --- | --- | --- |
| 47 | 44 | 48 | 45 | 44 | 42 |
Devil Children (PS)Edit
| Class | Element | Type | Exp | Level | HP | MP |
| --- | --- | --- | --- | --- | --- | --- |
| Common | Fire | Evil | 1002 | 49 | 522 | 235 |
| ATK | DEF | MGC | RES | SPD | LCK |
| --- | --- | --- | --- | --- | --- |
| 47 | 44 | 48 | 45 | 44 | 42 |