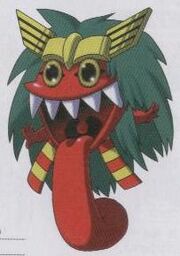 Van Ou (ヴァンオー, Vanō) is a demon in the series.
King of the Van, which is derived from the Vanir of Norse mythology.
Design wise, however, it resembles more like Kirtimukha from Hindu mythology, or Bhoma and Batara Kala from Indonesian mythology, whose faces are often used in architectrure and masks.
Appearances
Edit
Devil Children Red/Black BookEdit
Van Ou can be obtained by ranking up Van.
Devil Children Red/Black BookEdit
| Class | Element | Type | Exp | Level | HP | MP |
| --- | --- | --- | --- | --- | --- | --- |
| King | Fire | Evil | 1240 | 54 | 580 | 263 |
| ATK | DEF | MGC | RES | SPD | LCK |
| --- | --- | --- | --- | --- | --- |
| 54 | 51 | 53 | 49 | 48 | 49 |
List of Skills

Hell Stab
Guillotine Blade
Dark Spear
Jionga
Marin Karin
Riberama
Devil Children White BookEdit
| Class | Element | Type | Exp | Level | HP | MP |
| --- | --- | --- | --- | --- | --- | --- |
| King | Fire | Evil | 1240 | 54 | 580 | 263 |
| ATK | DEF | MGC | RES | SPD | LCK |
| --- | --- | --- | --- | --- | --- |
| 54 | 51 | 53 | 49 | 48 | 49 |
List of Skills

Hell Stab
Guillotine Blade
Dark Spear
Jionga
Marin Karin
Riberama
Devil Children (PS)Edit
| Class | Element | Type | Exp | Level | HP | MP |
| --- | --- | --- | --- | --- | --- | --- |
| King | Fire | Evil | 1240 | 54 | 580 | 263 |
| ATK | DEF | MGC | RES | SPD | LCK |
| --- | --- | --- | --- | --- | --- |
| 54 | 51 | 53 | 49 | 48 | 49 |
List of Skills

Hell Stab
Guillotine Blade
Dark Spear
Jionga
Marin Karin
Riberama