Ad blocker interference detected!
Wikia is a free-to-use site that makes money from advertising. We have a modified experience for viewers using ad blockers

Wikia is not accessible if you've made further modifications. Remove the custom ad blocker rule(s) and the page will load as expected.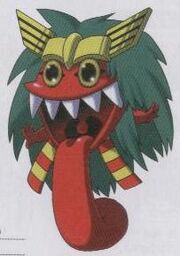 Van Ou (ヴァンオー, Vanō) is a demon in the series.
King of the Van, which is derived from the Vanir of Norse mythology.
Appearances
Edit
Devil Children Red/Black BookEdit
Van Ou can be obtained by ranking up Van.
Devil Children Red/Black BookEdit
| Class | Element | Type | Exp | Level | HP | MP |
| --- | --- | --- | --- | --- | --- | --- |
| King | Fire | Evil | 1240 | 54 | 580 | 263 |
| ATK | DEF | MGC | RES | SPD | LCK |
| --- | --- | --- | --- | --- | --- |
| 54 | 51 | 53 | 49 | 48 | 49 |
List of Skills

Hell Stab
Guillotine Blade
Dark Spear
Jionga
Marin Karin
Riberama
Devil Children White BookEdit
| Class | Element | Type | Exp | Level | HP | MP |
| --- | --- | --- | --- | --- | --- | --- |
| King | Fire | Evil | 1240 | 54 | 580 | 263 |
| ATK | DEF | MGC | RES | SPD | LCK |
| --- | --- | --- | --- | --- | --- |
| 54 | 51 | 53 | 49 | 48 | 49 |
List of Skills

Hell Stab
Guillotine Blade
Dark Spear
Jionga
Marin Karin
Riberama
Devil Children (PS)Edit
| Class | Element | Type | Exp | Level | HP | MP |
| --- | --- | --- | --- | --- | --- | --- |
| King | Fire | Evil | 1240 | 54 | 580 | 263 |
| ATK | DEF | MGC | RES | SPD | LCK |
| --- | --- | --- | --- | --- | --- |
| 54 | 51 | 53 | 49 | 48 | 49 |
List of Skills

Hell Stab
Guillotine Blade
Dark Spear
Jionga
Marin Karin
Riberama