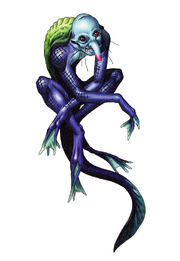 Vodyanik also known as Vodyanoy (ヴォジャノーイ, Vojyanooi)? is a demon in the series.
A male water spirit of Slavic origins that would destroy mills unless appeased.
Appearances
Edit
Shin Megami Tensei: Strange JourneyEdit
"

A water creature of Slavic lore. He drowns humans and sometimes makes them his slaves. With his Rusalka wife, he lives at the bottom of lakes. He catches and eats people who venture near the water. He appears as a merman or frogman, but is said to be able to change his shape to human form.

"
—Strange Journey Compendium
DemiKids: Light/Dark VersionEdit
"

Water-demon that lurks in the swamps and attacks anybody who foolishly approaches it.

"
Known as Vorgia
Shin Megami Tensei: Strange JourneyEdit
Race

Alignment

Level

HP

MP

| | | |
| --- | --- | --- |
| Strength | 9 | |
| Magic | 13 | |
| Vitality | 10 | |
| Agility | 9 | |
| Luck | 8 | |

Yoma
Neutral-Law
13
133
78
| Attack Type | | | | | | | | | |
| --- | --- | --- | --- | --- | --- | --- | --- | --- | --- |
| Single foe/1/Physical/None | - | - | - | Strong | Strong | Weak | - | - | - |
| Poison | Paralyze | Stone | Strain | Sleep | Charm | Mute | Fear | Bomb | Rage |
| --- | --- | --- | --- | --- | --- | --- | --- | --- | --- |
| - | - | - | - | - | - | - | - | - | - |
D-Source Skills
Hell Thrust
Resist Ice
Item Drops
Yoma Webbing
Life Stone
Chakra Drop
Password
0ZGS#8nnRkKzJOq

CJGoD4GqjEJSD4HT
Shin Megami Tensei IVEdit
Race

Level

HP

MP

| | | |
| --- | --- | --- |
| Strength | 11 | |
| Dexterity | 12 | |
| Magic | 15 | |
| Agility | 11 | |
| Luck | 14 | |

Yoma
6
76
72
| Phys | Gun | Fire | Ice | Elec | Force | Light | Dark |
| --- | --- | --- | --- | --- | --- | --- | --- |
| - | - | - | - | Null | Weak | - | - |
| | |
| --- | --- |
| Normal Attack | Phys x1, 1 enemy |
List of Skills

Skill
Cost
Effect
Level
Mazio
11 MP
Weak elec damage to all foes.
Innate
Bouncing Claw
4 MP
1 to 3 hits of weak physical damage to one foe.
7
Mana Bonus
Auto
Increases max MP by 10%.
9
Shin Megami Tensei IV ApocalpyseEdit
Race

Level

HP

MP

| | | |
| --- | --- | --- |
| Strength | 10 | |
| Dexterity | 12 | |
| Magic | 19 | |
| Agility | 13 | |
| Luck | 16 | |

Yoma
8
96
82
| Phys | Gun | Fire | Ice | Elec | Force | Light | Dark |
| --- | --- | --- | --- | --- | --- | --- | --- |
| - | - | - | - | Resist | Weak | - | - |
| | |
| --- | --- |
| Normal Attack | Phys x1, 1 enemy |
List of Skills

Skill
Cost
Effect
Level
Zio
5 MP
Weak elec damage to one foe.
Innate
Bouncing Claw
4 MP
1 to 3 hits of weak physical damage to one foe.
9
Mana Bonus
Auto
Increases max MP by 10%.
10
Devil Summoner: Soul HackersEdit
| Race | Level | HP | MP | St | In | Ma | En | Ag | Lu |
| --- | --- | --- | --- | --- | --- | --- | --- | --- | --- |
| Yoma | 9 | 88 | 45 | 4 | 4 | 5 | 4 | 5 | 4 |

| CP | MAG Summon | Personality | P.ATK | P.HIT | B.DEF | AVD | M.ATK | M.HIT |
| --- | --- | --- | --- | --- | --- | --- | --- | --- |
| 2 | 143 | Calm | 26 | 15 | 42 | 15 | 44 | 12 |
| Reflects | Absorbs | Void | Resists | Weak |
| --- | --- | --- | --- | --- |
| - | - | Elec, Expel | - | - |
DemiKids Light & DarkEdit
| Class | Element | Type | Level | HP | MP | Exp |
| --- | --- | --- | --- | --- | --- | --- |
| General | Water | Fiend | 30 | 319 | 138 | 378 |

| ATK | DEF | MGC | RES | SPD | LCK |
| --- | --- | --- | --- | --- | --- |
| 24 | 29 | 23 | 29 | 24 | 25 |
List of Skills

Skill
Element
Cost
Effect
Hyper Sense
Earth
10 HP
DEF Up. Self
Mystic Bind
Dark
6 MP
Paralyze. 1 Foe
Aquadeus
Water
8 MP
Small dmg. 2 Foes
Attract
Light
4 MP
Encounter Up. Party
Cure
Light
6 MP
Cure. 1 Ally
Healmax
Light
20 MP
Full HP recovery. 1 Ally
Devil Children Fire/Ice BookEdit
| Class | Element | Type | Level | HP | MP | Exp |
| --- | --- | --- | --- | --- | --- | --- |
| General | Water | Fiend | 30 | 319 | 138 | 378 |

| ATK | DEF | MGC | RES | SPD | LCK |
| --- | --- | --- | --- | --- | --- |
| 24 | 29 | 23 | 29 | 24 | 25 |