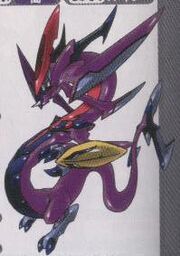 War Rox, known as Jihad Hei Long (ジハードヘイロン, heiron) in Japan, is a demon in the series.
Appearances
Edit
DemiKids Light/Dark VersionEdit
"

A DemiKid's best friend. Teeming with dark power to better protect its master.

"
Gale evolves into War Rox if Wing Rox is his current form, after getting the Testament in the Dark Temple. He can perform the combo Megaton with Cyclops and Doombringer with Odin.
DemiKids: Light/Dark VersionEdit
| Class | Element | Type | Exp | Level | HP | MP |
| --- | --- | --- | --- | --- | --- | --- |
| King | Dark | Myth | 835 | 45 | 468 | 231 |

| ATK | DEF | MGC | RES | SPD | LCK |
| --- | --- | --- | --- | --- | --- |
| 42 | 41 | 47 | 45 | 45 | 40 |
List of Skills

Skill
Element
Cost
Effect
Dark Howl
Dark
25 HP
Small dmg. Foes
Healmor All
Light
18 MP
Major HP recovery. Party
Resurrect
Light
25 MP
Revive +Max HP. 1 Ally
Hex Leech
Dark
20 MP
Absorb HP. 1 Foe
Healmax
Light
20 MP
Full HP recovery. 1 Ally
Healmax All
Light
30 MP
Max HP recovery. Party
Devil Children Fire/Ice BookEdit
| Class | Element | Type | Exp | Level | HP | MP |
| --- | --- | --- | --- | --- | --- | --- |
| King | Dark | Myth | 835 | 45 | 468 | 231 |

| ATK | DEF | MGC | RES | SPD | LCK |
| --- | --- | --- | --- | --- | --- |
| 42 | 41 | 47 | 45 | 45 | 40 |