Ad blocker interference detected!
Wikia is a free-to-use site that makes money from advertising. We have a modified experience for viewers using ad blockers

Wikia is not accessible if you've made further modifications. Remove the custom ad blocker rule(s) and the page will load as expected.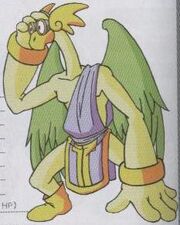 Watcher (ウォッチャー?) is a demon in the series.
Name used to describe the Angels Of the Grigori, a group whose main members are Azazel, Azael, Shemhaza, and Satanael. The Book of Enoch refers to both good and bad Watchers. Those that fell became Grigori.
Appearances
Edit
Shin Megami TenseiEdit

"Origin: Unknown. A monster known as 'one who watches.' It takes the form of a giant eyeball that floats in the air. It is elusive and spies on people for the angels as one of their informants."
—Shin Megami Tensei A-Mode DDS Dictionary
Shin Megami TenseiEdit
| CP | NOA | ATK | ACC | DEF | EVA | M.ATK | M.EFC |
| --- | --- | --- | --- | --- | --- | --- | --- |
| 22 | 1-7 | 61 | 17 | 42 | 16 | 19 | 15 |

| | | |
| --- | --- | --- |
| St | 13 | |
| In | 13 | |
| Ma | 17 | |
| Vi | 15 | |
| Ag | 14 | |
| Lu | 8 | |
| | | | |
| --- | --- | --- | --- |
| Resistances | Resists magic, nulls Guns | Drop | Hand Grenade |
List of Skills

Skill
Cost
Effect
Zanma
5 MP
Blasts one enemy with a strong gale.
Rimdora
8 MP
Blasts a group of enemies with the strongest gale.
Petra Eyes
Extra
Petrifies one enemy. (Curse-type)
Last Bible IIIEdit
| Level | HP | MP | ATK | DEF | STR | INT | END | SPD | LUC |
| --- | --- | --- | --- | --- | --- | --- | --- | --- | --- |
| 3 | 38 | 20 | 9 | 7 | 7 | 7 | 8 | 11 | 7 |
Giten Megami Tensei: Tokyo MokushirokuEdit
| Race | Alignment | Level | HP | MP | CP |
| --- | --- | --- | --- | --- | --- |
| Divine | Neutral-Law | 6 | 53 | 45 | 11 |

| Intuition | Will Power | Magic | Intelligence | Divine Protection |
| --- | --- | --- | --- | --- |
| 5 | 10 | 9 | 9 | 14 |

| Strength | Stamina | Agility | Dexterity | Charm |
| --- | --- | --- | --- | --- |
| 10 | 9 | 6 | 8 | 8 |
Devil Children Red/Black BookEdit
| Class | Element | Type | Level | HP | MP | Exp |
| --- | --- | --- | --- | --- | --- | --- |
| Common | Light | Holy | 6 | 73 | 26 | 16 |
| ATK | DEF | MGC | RES | SPD | LCK |
| --- | --- | --- | --- | --- | --- |
| 10 | 8 | 7 | 6 | 8 | 6 |
Devil Children Red/Black Book (PS) Edit
| Class | Element | Type | Level | HP | MP | Exp |
| --- | --- | --- | --- | --- | --- | --- |
| Common | Light | Holy | 6 | 73 | 26 | 16 |
| ATK | DEF | MGC | RES | SPD | LCK |
| --- | --- | --- | --- | --- | --- |
| 10 | 8 | 7 | 6 | 8 | 6 |
Devil Children White BookEdit
| Class | Element | Type | Level | HP | MP | Exp |
| --- | --- | --- | --- | --- | --- | --- |
| Common | Light | Holy | 6 | 73 | 26 | 16 |
| ATK | DEF | MGC | RES | SPD | LCK |
| --- | --- | --- | --- | --- | --- |
| 10 | 8 | 7 | 6 | 8 | 6 |