Ad blocker interference detected!
Wikia is a free-to-use site that makes money from advertising. We have a modified experience for viewers using ad blockers

Wikia is not accessible if you've made further modifications. Remove the custom ad blocker rule(s) and the page will load as expected.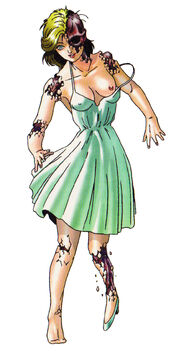 Waxwork (ワックスワーク) is a demon appearing in Shin Megami Tensei: Devil Summoner
Waxwork is possible based on the wax statues found in wax museums. In fact the term "Waxworks" is used as a synonym for "Museum of Wax".
Its name can also be based on the movie of the same name where the already mentioned wax statues came to life and attacked the protagonists.
Appearances
Edit
Shin Megami Tensei: Devil SummonerEdit
| Strength | Intelligence | Magic | Endurance | Agility | Luck |
| --- | --- | --- | --- | --- | --- |
| 6 | 3 | 4 | 8 | 4 | 3 |
| Personality | Phys Attack | Phys Hit | Base Defense | Avoid | Mgc Attack | Mgc Defense |
| --- | --- | --- | --- | --- | --- | --- |
| | 34 | 21 | 38 | 20 | 9 | 13 |