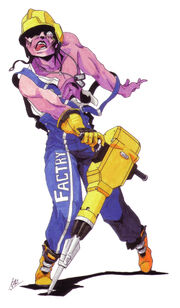 Workaholic (ワーカーホリック?) is a demon in the series.
Workaholic is a slang term referring to someone seemingly addicted to their job or career, derived from the words "work" and "alcoholic," coined by Wayne Oates in 1968 but only becoming popular during the 1990s.
Appearances
Edit
Shin Megami Tensei IIEdit
Workaholic can drop metal cards, used for Code Breaker.
Shin Megami Tensei IIEdit
| CP | NOA | ATK | ACC | DEF | EVA | M.ATK | M.EFC |
| --- | --- | --- | --- | --- | --- | --- | --- |
| 12 | 0-1 | 42 | 29 | 42 | 29 | 4 | 5 |

| | | |
| --- | --- | --- |
| St | 6 | |
| In | 5 | |
| Ma | 3 | |
| Vi | 6 | |
| Ag | 5 | |
| Lu | 5 | |
Swd
Gun
Fir
Ice
Elc
For
Nrv
Exp
Crs
Mgc
Bnd
Rsh
Hnd
Leg
Fly
Alm
-

6

/

8
1.5×

6

/

8

6

/

8
-

4

/

8
2×
Nu
-
-
-
-
-
-
-
List of Skills

Skill
Cost
Effect
Sukunda
2 MP
Decreases hit/evade, all foes.
Punch
3% HP
Light Punch attack to one foe.
Kick
4% HP
Light Kick attack to one foe.
Rest
5% HP
Restores HP equivalent to three times the cost for activating this skill.
Call Ally
-
Summon allies (Enemy only)