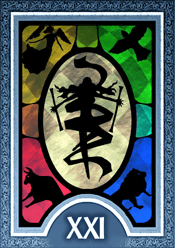 The World Arcana (世界?) is a powerful Arcana in the Persona series.
It often appears as the final triumph arcana, creating miracles and aiding the protagonists. Portrayed as a young woman (or an androgyne, depending on deck) surrounded by figures of an angel, a bull, an eagle, and a lion (representations of the four elements in transcendent form, as well as the symbols of the four Evangelists (Luke, Matthew, John, and Mark respectively), The World Arcana is a representation of the world's totality, the symbol of fulfillment, wholeness, and harmony.
The World Arcana is commonly associated with Social Links, where its power is based upon the protagonist's bonds with others.
Appearances
Edit
List of Personas
Edit
Megami Ibunroku PersonaEdit
The player can guarantee a fusion accident resulting in a World Arcana persona by starting from a "hard reset" (as in, not already mid-game and loading a save or selecting "Return to Title") and performing a White Fusion after taking exactly 216 steps in an area where no enemies will attack, such as the Mikage Sun Mall.
Persona 2Edit
Innocent SinEdit
Eternal PunishmentEdit
Persona 3Edit
The sole owner of The World Arcana in Persona 3 is Elizabeth, Igor's assistant in the Velvet Room and the game's optional boss. Not to be confused with The Universe Arcana.
Persona 4Edit
The protagonist of Persona 4 can gain access to a Persona of The World Arcana in the events of the True Ending route, Izanagi-no-Okami. Through the bonds of the others, the World Arcana channels its powers to the protagonist's initial Persona, Izanagi, and transforms him into Izanagi-no-Okami.
Persona Q: Shadow of the LabyrinthEdit
The P3 hero and P4 hero are the sole users of the World Arcana in Persona Q. After defeating Margaret in the "The Power of the Wild Card" request, Orpheus and Izanagi will be reborn into Messiah and Izanagi-no-Okami; both Personas representing the World Arcana.
Persona 5 Edit
The protagonist of Persona 5 gains access to the World Arcana towards the end of the game's True Ending. It is received from Igor and Lavenza as a farewell gift after defeating the Holy Grail's true form.
List of Demons
Edit
Persona 2Edit
Innocent SinEdit
Eternal PunishmentEdit
Card Designs
Edit