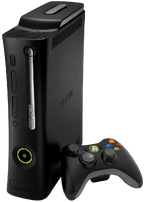 The Xbox 360 is the second video game console produced by Microsoft and the successor to the Xbox.
Several major features of the Xbox 360 are its integrated Xbox Live service that allows players to compete online,
download arcade games, game demos, trailers, TV shows, music and movies and its Windows Media Center multimedia capabilities. The Xbox 360 also offers region specific access to third-party media streaming services such as Netflix and ESPN in the US or Sky Go in the UK.
Ad blocker interference detected!
Wikia is a free-to-use site that makes money from advertising. We have a modified experience for viewers using ad blockers

Wikia is not accessible if you've made further modifications. Remove the custom ad blocker rule(s) and the page will load as expected.