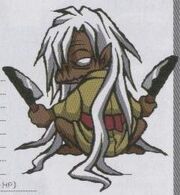 Yamanba (やまんば, Yamanba) is a demon in the series.
Yamanba, which may be roughly understood as 'mountain hag', are a type of youkai that inhabit the mountains as their name states. They're often depicted as malicious beings that kill people and children lost in the mountains, but there are some folklore stories which depict them as motherly figures towards children abandoned in the mountains, which would grow up to be a hero.
Appearances
Edit
DemiKids: Light & DarkEdit
"An ancient demon armed with deadly knives that can cut almost anything."
—DemiKids Demonary
Known as Witch.
Devil Children: Black/Red BookEdit
| Class | Element | Type | Exp | Level | HP | MP |
| --- | --- | --- | --- | --- | --- | --- |
| Common | Wind | Ogre | 539 | 36 | 375 | 178 |
| ATK | DEF | MGC | RES | SPD | LCK |
| --- | --- | --- | --- | --- | --- |
| 35 | 34 | 30 | 27 | 27 | 30 |
Devil Children: White BookEdit
| Class | Element | Type | Exp | Level | HP | MP |
| --- | --- | --- | --- | --- | --- | --- |
| Common | Wind | Ogre | 539 | 36 | 375 | 178 |
| ATK | DEF | MGC | RES | SPD | LCK |
| --- | --- | --- | --- | --- | --- |
| 35 | 34 | 30 | 27 | 27 | 30 |
Devil Children Black Book/Red Book (PS)Edit
| Class | Element | Type | Exp | Level | HP | MP |
| --- | --- | --- | --- | --- | --- | --- |
| Common | Wind | Ogre | 539 | 36 | 375 | 178 |
| ATK | DEF | MGC | RES | SPD | LCK |
| --- | --- | --- | --- | --- | --- |
| 35 | 34 | 30 | 27 | 27 | 30 |
DemiKids: Light & DarkEdit
| Class | Element | Type | Exp | Level | HP | MP |
| --- | --- | --- | --- | --- | --- | --- |
| Common | Wind | Ogre | 610 | 38 | 402 | 176 |

| ATK | DEF | MGC | RES | SPD | LCK |
| --- | --- | --- | --- | --- | --- |
| 38 | 35 | 33 | 34 | 32 | 32 |
List of Skills

Skill
Element
Cost
Effect
Hex Coma
Dark
10 MP
Small dmg +Faint. 1 Foe
Death Breath
Dark
30 HP
Large dmg +Faint. Foes
Silence
Dark
6 MP
Mute. 1 Foe
Cyclolok
Wind
15 MP
Large dmg. 1 Foe
Distract
Dark
6 MP
Tempt. 1 Foe
Shockblast
Thunder
20 MP
Medium dmg. Foes
Devil Children Fire/Ice BookEdit
| Class | Element | Type | Exp | Level | HP | MP |
| --- | --- | --- | --- | --- | --- | --- |
| Common | Wind | Ogre | 610 | 38 | 402 | 176 |

| ATK | DEF | MGC | RES | SPD | LCK |
| --- | --- | --- | --- | --- | --- |
| 38 | 35 | 33 | 34 | 32 | 32 |