Ad blocker interference detected!
Wikia is a free-to-use site that makes money from advertising. We have a modified experience for viewers using ad blockers

Wikia is not accessible if you've made further modifications. Remove the custom ad blocker rule(s) and the page will load as expected.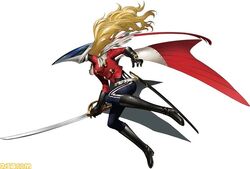 Yamato Sumeragi (originally ヤマトスメラミコト, Yamato Sumera Mikoto in Japan) is a Persona in the series.
Yamato Sumeragi (大和天皇) or Yamato Sumera Mikoto (大和皇尊) are epithets for the Emperors of Japan, known simply as "Ten'ō" (天皇) in Japanese.
Appearances
Edit
Persona 4 GoldenEdit
Naoto Shirogane's new Ultimate Persona after the player has maxed out her Social Link, and talked to her after 1/10.
Persona 4 GoldenEdit
| Inherit | Resists | Block | Absorbs | Reflects | Weak |
| --- | --- | --- | --- | --- | --- |
| N/A | - | Fire | - | Light, Dark | - |
List of Skills

Skill
Cost
Effect
Level
Tempest Slash
15% HP
Deals heavy Phys damage to 1 foe 1x to 2x.
Innate
Agidyne
12 SP
Deals heavy Fire damage to 1 foe.
Innate
Garudyne
12 SP
Deals heavy Wind damage to 1 foe.
Innate
Mudoon
15 SP
Darkness: medium chance of instant kill, 1 foe. (60% chance)
Innate
Hamaon
15 SP
Light: medium chance of instant kill, 1 foe. (60% chance)
Innate
Megidola
32 SP
Deals heavy Almighty damage to all foes.
Innate
Deathbound
20% HP
Deals heavy Phys damage to all foes.
Innate
Tetrakarn
36 SP
Barrier that reflects phys dmg once. (1 ally)
56
Makarakarn
36 SP
Barrier that reflects magic dmg once. (1 ally; excludes Almighty attacks)
58
Mudo Boost
Passive
Darkness-based attacks are 1.5 times more effective.
64
Hama Boost
Passive
Light-based attacks are 1.5 times more effective.
66
Mamudoon
34 SP
Darkness: medium chance of instant kill, all foes. (40% chance)
68
Mahamaon
34 SP
Light: medium chance of instant kill, all foes. (40% chance)
70
Vorpal Blade
25% HP
Deals heavy Phys damage to all foes.
73
Megidolaon
60 SP
Deals severe Almighty damage to all foes.
75
Shield of Justice
160 SP
Shields the party from all damage once.
Max SL Winter Event