Ad blocker interference detected!
Wikia is a free-to-use site that makes money from advertising. We have a modified experience for viewers using ad blockers

Wikia is not accessible if you've made further modifications. Remove the custom ad blocker rule(s) and the page will load as expected.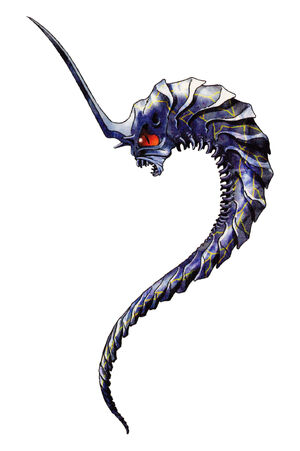 Yato no Kami (ヤトノカミ*)? is a demon in the series.
The Yato no Kami are snake deities appearing in the Hitachi no Kuni Fudoki. They lived in Namegata county, in fields near the government office. They were rumored to bring familial extermination on anyone who saw them, but were eventually killed by a man clearing the fields, enshrined, and banished to the mountains.
Appearances
Edit
Raidou Kuzunoha vs. The Lone MarebitoEdit
Yato no Kami is the demon used by Ayame. She defeats Parvati plus her horde of Nandi.
Shin Megami Tensei: Devil SummonerEdit
| Race | Level | HP | MP | St | In | Ma | Ag | Lu |
| --- | --- | --- | --- | --- | --- | --- | --- | --- |
| Snake | 22 | 123 | 61 | 10 | 8 | 4 | 5 | 4 |
| CP | NOA | Personality | P.ATK | P.HIT | B.DEF | AVD | M.ATK | M.DEF |
| --- | --- | --- | --- | --- | --- | --- | --- | --- |
| 30 | 1 | Sly | 64 | 41 | 60 | 41 | 12 | 24 |
Devil Summoner: Soul HackersEdit
| Race | Level | HP | MP | St | In | Ma | En | Ag | Lu |
| --- | --- | --- | --- | --- | --- | --- | --- | --- | --- |
| Snake | 22 | 197 | 70 | 6 | 6 | 9 | 7 | 7 | 4 |

| CP | MAG Summon | Personality | P.ATK | P.HIT | B.DEF | AVD | M.ATK | M.HIT |
| --- | --- | --- | --- | --- | --- | --- | --- | --- |
| 5 | 350 | Dumb | 56 | 35 | 74 | 35 | 78 | 20 |
| Reflects | Absorbs | Void | Resists | Weak |
| --- | --- | --- | --- | --- |
| - | - | Strike, Gun | - | - |
Giten Megami Tensei: Tokyo MokushirokuEdit
| Race | Alignment | Level | HP | MP | CP |
| --- | --- | --- | --- | --- | --- |
| Snake | Neutral-Chaos | 13 | 247 | 170 | 35 |

| Intuition | Will Power | Magic | Intelligence | Divine Protection |
| --- | --- | --- | --- | --- |
| 24 | 22 | 27 | 19 | 18 |

| Strength | Stamina | Agility | Dexterity | Charm |
| --- | --- | --- | --- | --- |
| 33 | 33 | 31 | 15 | 26 |
Megami Ibunroku PersonaEdit
| Order | Type | Subtype | Level | HP | SP | Drops |
| --- | --- | --- | --- | --- | --- | --- |
| Snake | Light | Curse | 22 | 308 | 220 | Iron Claw |

MAtk
MDef

| | | |
| --- | --- | --- |
| Strength | 36 | |
| Vitality | 16 | |
| Dexterity | 14 | |
| Agility | 6 | |
| Luck | 12 | |

55
28
1h
2h
Sp
Ax
Wp
Th
Ar
Fs
HG
MG
SG
Ri
Te
Ru

2

/

4

2

/

4

2

/

4

2

/

4

2

/

4

2

/

4

2

/

4

2

/

4

2

/

4

2

/

4

2

/

4

2

/

4
2×

2

/

4
Fi
Ic
Wi
Er
El
Nc
Bl
Gr
Ex
Mi
De
Cu
Nr
???
1.5×
1.5×
1.5×
1.5×
1.5×
1.5×
1.5×
1.5×
Dr

2

/

4
2×
2×

2

/

4

2

/

4
List of Skills

Skill
Effect
Eternal Black
Heavy Curse damage (area)
Tackle
Medium Rush damage (1 foe)