Ad blocker interference detected!
Wikia is a free-to-use site that makes money from advertising. We have a modified experience for viewers using ad blockers

Wikia is not accessible if you've made further modifications. Remove the custom ad blocker rule(s) and the page will load as expected.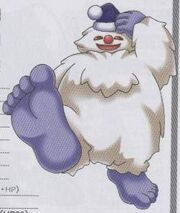 Yeti (イエティ, Ieti) is a demon in the series.
The Yeti, or Abominable Snowman, is a mythical creature and an ape-like cryptid said to inhabit the Himalayan region of Nepal and Tibet. The names Yeti and Meh-Teh are commonly used by the people indigenous to the region, and are part of their history and beliefs. Stories of the Yeti first emerged as a facet of Western popular culture in the 19th century.
Appearances
Edit
DemiKids Light & DarkEdit
"

This massive snow giant of the mountains is often seen attacking the unwary climber.

"
—DemiKids Demonary
Yeti has the power Freeze.
Devil Children: Black/Red BookEdit
| Class | Element | Type | Exp | Level | HP | MP |
| --- | --- | --- | --- | --- | --- | --- |
| General | Water | Ogre | | 6 | 78 | 29 |
| ATK | DEF | MGC | RES | SPD | LCK |
| --- | --- | --- | --- | --- | --- |
| 11 | 9 | 8 | 7 | 9 | 9 |
Devil Children: White BookEdit
| Class | Element | Type | Exp | Level | HP | MP |
| --- | --- | --- | --- | --- | --- | --- |
| General | Water | Ogre | | 6 | 78 | 29 |
| ATK | DEF | MGC | RES | SPD | LCK |
| --- | --- | --- | --- | --- | --- |
| 11 | 9 | 8 | 7 | 9 | 9 |
Devil Children Black Book/Red Book (PS)Edit
| Class | Element | Type | Exp | Level | HP | MP |
| --- | --- | --- | --- | --- | --- | --- |
| General | Water | Ogre | | 6 | 78 | 29 |
| ATK | DEF | MGC | RES | SPD | LCK |
| --- | --- | --- | --- | --- | --- |
| 11 | 9 | 8 | 7 | 9 | 9 |
DemiKids: Light & DarkEdit
| Class | Element | Type | Exp | Level | HP | MP |
| --- | --- | --- | --- | --- | --- | --- |
| General | Ice | Ogre | | 6 | 78 | 29 |

| ATK | DEF | MGC | RES | SPD | LCK |
| --- | --- | --- | --- | --- | --- |
| 11 | 9 | 8 | 7 | 9 | 9 |
List of Skills

Skill
Element
Cost
Effect
Polar
Ice
5 MP
Small dmg +Freeze. 1 Foe
Cold Voice
Ice
20 HP
Small dmg +Mute. 1 Foe
Pandemonium
Dark
6 MP
Confuse. 1 Foe
Heal All
Light
12 MP
Minor HP recovery. Party
Polarburst
Ice
10 MP
Medium dmg +Freeze. 1 Foe
Healmax
Light
20 MP
Full HP recovery. 1 Ally
Devil Children Fire/Ice BookEdit
| Class | Element | Type | Exp | Level | HP | MP |
| --- | --- | --- | --- | --- | --- | --- |
| General | Ice | Ogre | | 6 | 78 | 29 |

| ATK | DEF | MGC | RES | SPD | LCK |
| --- | --- | --- | --- | --- | --- |
| 11 | 9 | 8 | 7 | 9 | 9 |