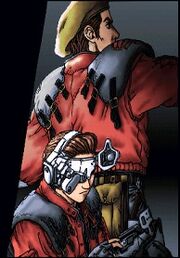 Yoshio Nishino (西野義雄, Nishino Yoshio)? is a character from Giten Megami Tensei: Tokyo Mokushiroku.
Appearances
Edit
Giten Megami Tensei: Tokyo MokushirokuEdit
Yoshio Nishino is the commanding officer of the second division of Devil Busters, who lives in the Hatsudai shelter with his wife and son. He seems to feel a sense of obligation towards Ayato Katsuragi's father, with implications suggesting that his reason for being transferred to Hatsudai was on account of Katsuragi's death.
Ad blocker interference detected!
Wikia is a free-to-use site that makes money from advertising. We have a modified experience for viewers using ad blockers

Wikia is not accessible if you've made further modifications. Remove the custom ad blocker rule(s) and the page will load as expected.