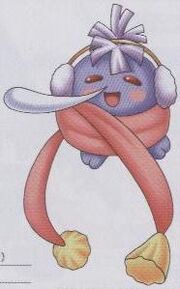 Yukinko (ユキンコ, Yukinko) is a demon in the series.
Snow fairies that appear in the shape of children. They are sometimes said to be the children of Yuki-onna.
Appearances
Edit
DemiKids: Light & DarkEdit
"A sweet-looking demon made of snow. Attacks enemies with a cold barrage of ice spells."
—DemiKids Demonary
Known as Ice Baby, it has the power IceProof, which prevents death by ice attacks.
Devil Children: Black/Red BookEdit
| Class | Element | Type | Exp | Level | HP | MP |
| --- | --- | --- | --- | --- | --- | --- |
| Common | Water | Fiend | 20 | 7 | 79 | 38 |
| ATK | DEF | MGC | RES | SPD | LCK |
| --- | --- | --- | --- | --- | --- |
| 8 | 8 | 10 | 7 | 6 | 9 |
Devil Children Black Book/Red Book (PS)Edit
| Class | Element | Type | Exp | Level | HP | MP |
| --- | --- | --- | --- | --- | --- | --- |
| Common | Water | Fiend | 20 | 7 | 79 | 38 |
| ATK | DEF | MGC | RES | SPD | LCK |
| --- | --- | --- | --- | --- | --- |
| 8 | 8 | 10 | 7 | 6 | 9 |
Devil Children: White BookEdit
| Class | Element | Type | Exp | Level | HP | MP |
| --- | --- | --- | --- | --- | --- | --- |
| Common | Water | Fiend | 20 | 7 | 79 | 38 |
| ATK | DEF | MGC | RES | SPD | LCK |
| --- | --- | --- | --- | --- | --- |
| 8 | 8 | 10 | 7 | 6 | 9 |
DemiKids: Light & DarkEdit
| Class | Element | Type | Exp | Level | HP | MP |
| --- | --- | --- | --- | --- | --- | --- |
| Common | Ice | Fiend | | 8 | 82 | 44 |

| ATK | DEF | MGC | RES | SPD | LCK |
| --- | --- | --- | --- | --- | --- |
| 8 | 9 | 11 | 9 | 7 | 10 |
List of Skills

Skill
Element
Cost
Effect
Polar
Ice
5 MP
Small dmg +Freeze. 1 Foe
Cure
Light
6 MP
Cure. 1 Ally
Heal
Light
5 MP
Minor HP recovery. 1 Ally
Intox
Dark
6 MP
Happy. 1 Foe
Silence
Dark
6 MP
Mute. 1 Foe
Polarburst
Ice
10 MP
Medium dmg +Freeze. 1 Foe
Devil Children Fire/Ice BookEdit
| Class | Element | Type | Exp | Level | HP | MP |
| --- | --- | --- | --- | --- | --- | --- |
| Common | Ice | Fiend | | 8 | 82 | 44 |

| ATK | DEF | MGC | RES | SPD | LCK |
| --- | --- | --- | --- | --- | --- |
| 8 | 9 | 11 | 9 | 7 | 10 |