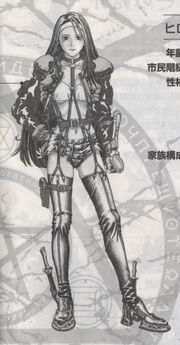 Yuuka Tachibana (橘由宇香, Tachibana Yuuka)? is a character from Giten Megami Tensei: Tokyo Mokushiroku.
Appearances
Edit
Giten Megami Tensei: Tokyo MokushirokuEdit
Yuuka Tachibana is a member of the Elite class and a close childhood friend of Ayato Katsuragi's. Despite her superior social status, she takes the Devil Buster entrance exam alongside him, eventually becoming one of Hatsudai shelter's primary DBs. Soon after being enlisted, she is captured by Murmur, dismembered and eaten by his group of Fallen, spurring Ayato to seek a means of reviving her.