Ad blocker interference detected!
Wikia is a free-to-use site that makes money from advertising. We have a modified experience for viewers using ad blockers

Wikia is not accessible if you've made further modifications. Remove the custom ad blocker rule(s) and the page will load as expected.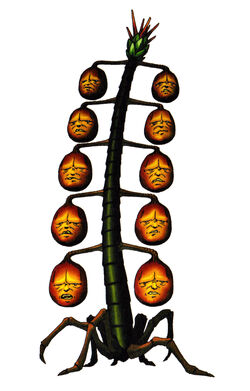 Zaccoum (ザックーム, Zakkuumu) is a demon in the series.
In the teachings and theology of the Islamic people, the Zaqqum (or "Zaccoum") is a demonic and foul fruit-bearing tree that grows in the depths of Jahannam, the Islamic name for hell. It is mentioned in the Qu'ran that the souls that dwell within Jahannam are compelled to eat the bitter fruit that grows from it, but it only serves to intensify their torment. It is one of only two things that the Khati'un, a group of sinners who never believed in Allah or helped the needy, are allowed to eat. It is either the fruit of Zaccoum or Ghislin, the foul pus that comes from washing their wounds. The fruit itself is said to be shaped like the heads of devils, and once ingested will churn in the stomachs of the sinners like boiling oil causing them immense agony.
Appearances
Edit
Shin Megami Tensei: Strange JourneyEdit
"

A tree believed to grow in Jahannam, the Islamic hell. It bears fruit shaped like the heads of devils. Its existence is mentioned in the Qu'ran.

"
—Strange Journey compendium
Shin Megami Tensei IV ApocalypseEdit
Zaccoum can be found within the Tennozu Shelter. It can teach the Poison Breath, Acid Breath and Pandemic Bomb skills through its Demon Whisper. Zaccoum benefits from learning ailment, Ice and support skills.
Shin Megami Tensei: Strange JourneyEdit
| Attack Type | | | | | | | | | |
| --- | --- | --- | --- | --- | --- | --- | --- | --- | --- |
| Single Foe/1/Physical/None | - | - | Weak | Weak | - | - | - | Strong | - |
| Poison | Paralyze | Stone | Strain | Sleep | Charm | Mute | Fear | Bomb | Rage |
| --- | --- | --- | --- | --- | --- | --- | --- | --- | --- |
| Null | Null | Null | 100% | 100% | Null | Null | Null | 100% | 100% |
D-Source Skills
Agidyne
Resist Fire
Resist Curse
Item Drops
Wood Face
Life Stone
Bead
Password
2LBKr8JOrD%5Jb2J

zjJMrERLo6SK0jJ5
Shin Megami Tensei IVEdit
| Race | Level | HP | MP | ST | DX | MA | AG | LU |
| --- | --- | --- | --- | --- | --- | --- | --- | --- |
| Wood | 42 | 244 | 237 | 42 | 46 | 60 | 39 | 55 |
| Phys | Gun | Fire | Ice | Elec | Force | Light | Dark |
| --- | --- | --- | --- | --- | --- | --- | --- |
| - | - | - | Drain | - | Weak | - | Null |
Shin Megami Tensei IV ApocalypseEdit
Race

Level

HP

MP

| | | |
| --- | --- | --- |
| Strength | 30 | |
| Dexterity | 39 | |
| Magic | 65 | |
| Agility | 47 | |
| Luck | 52 | |

Wood
41
280
232
| Phys | Gun | Fire | Ice | Elec | Force | Light | Dark |
| --- | --- | --- | --- | --- | --- | --- | --- |
| - | - | - | Null | - | Weak | Weak | Resist |
| | |
| --- | --- |
| Ailment Resistance | Null:Poison/Sick/Mute |
| | |
| --- | --- |
| Normal Attack | Phys x1-3, 1 enemy |
List of Skills

Skill
Cost
Effect
Level
Poison Breath
15 MP
70% poison to all foes.
Innate
Acid Breath
65 MP
Debuffs all foes' defense and agility by 1 level.
Innate
Pandemic Bomb
15 MP
70% sick to all foes.
42
Bloody Glee
Auto
Increases critical chance.
43
Shin Megami Tensei: Devil SummonerEdit
| Race | Level | HP | MP | CP | NOA |
| --- | --- | --- | --- | --- | --- |
| Wood | 38 | 224 | 158 | 20 | 1-2 |

| Strength | Intelligence | Magic | Endurance | Agility | Luck |
| --- | --- | --- | --- | --- | --- |
| 12 | 7 | 16 | 9 | 7 | 4 |
| Personality | Phys Attack | Phys Hit | Base Defense | Avoid | Mgc Attack | Mgc Defense |
| --- | --- | --- | --- | --- | --- | --- |
| Sly | 100 | 68 | 94 | 66 | 35 | 34 |
Devil Children Red/Black BookEdit
| Class | Element | Type | Exp | Level | HP | MP |
| --- | --- | --- | --- | --- | --- | --- |
| Common | Wind | Fiend | 378 | 30 | 319 | 138 |
| ATK | DEF | MGC | RES | SPD | LCK |
| --- | --- | --- | --- | --- | --- |
| 28 | 25 | 25 | 24 | 25 | 24 |
Devil Children Black Book/Red Book (PS)Edit
| Class | Element | Type | Exp | Level | HP | MP |
| --- | --- | --- | --- | --- | --- | --- |
| Common | Wind | Fiend | 378 | 30 | 319 | 138 |
| ATK | DEF | MGC | RES | SPD | LCK |
| --- | --- | --- | --- | --- | --- |
| 28 | 25 | 25 | 24 | 25 | 24 |
Devil Children White BookEdit
| Class | Element | Type | Exp | Level | HP | MP |
| --- | --- | --- | --- | --- | --- | --- |
| Common | Wind | Fiend | 378 | 30 | 319 | 138 |
| ATK | DEF | MGC | RES | SPD | LCK |
| --- | --- | --- | --- | --- | --- |
| 28 | 25 | 25 | 24 | 25 | 24 |