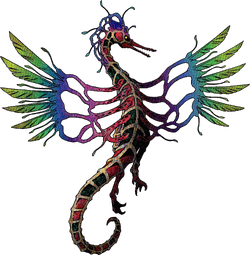 Zhen (チン, Chin) is a demon in the series.
A legendary Chinese cryptid known as Zhenniao (鴆鳥), they are poisonous birds said to have existed in the mountainous regions of southern China. It gained its notoriety of being poisonous from eating venomous viper heads. A famous Chinese idiom "quenching by drinking Zhen" (飲鴆止渴) references the cryptid to express "resorting to reckless/inconsiderate action for solving imminent problem."
Appearances
Edit
Shin Megami Tensei IMAGINEEdit
"A venomous bird appearing in Chinese legends. Its body is as large as an eagle, and its beak is the color of polished bronze, or reddish-black. Its feathers are a brilliant mix of purple and green.
These feathers are infused with a venom so deadly that plants wither and die wherever it flies. It is said that in ancient China, the wings of the Zhen were cut off and steeped in rice wine to make a poisonous brew that was used in assassinations. Since there were no known venomous birds, the Zhen was long held to be a mythical creature. However, the recent discovery of a bird with venomous wings in New Guinea has raised the possibility that the Zhen may actually have existed in the past."
—Shin Megami Tensei IMAGINE compendium
Zhen can be contracted at all times of day on Shinagawa field. It is one of the demons that can be mounted.
Shin Megami Tensei: Strange JourneyEdit
"A highly poisonous bird of Chinese lore. It likes to eat snakes with its copper-colored beak. It carries an incredibly potent venom; if it travels over a field, all the crops below will wither, and if one of its feathers falls into one's drink, a single sip can kill a man."
—Shin Megami Tensei: Strange Journey compendium
In an EX Mission, the main character is asked by Dionysus to fetch feathers from a Zhen to use in a poisonous wine.
Shin Megami Tensei IVEdit
Zhen can be found in Ikebukuro. It can teach Flynn the Poison Breath and Fog Breath skill through its Demon Whisper.
Shin Megami Tensei IV ApocalypseEdit
Zhen can be found in the Sky Tower. It can teach the Poison Breath and Sukunda skill through its Demon Whisper. Zhen benefits from learning ailment and support skills.
Shin Megami Tensei III: NocturneEdit
Race

Level

HP

MP

| | | |
| --- | --- | --- |
| Strength | 4 | |
| Magic | 6 | |
| Vitality | 6 | |
| Agility | 5 | |
| Luck | 5 | |

Wilder
6
72
36
| Reflects | Absorbs | Void | Resists | Weak |
| --- | --- | --- | --- | --- |
| - | - | Death | Ailment | Fire |
List of Skills

Skill
Cost
Effect
Level
Mute Gaze
5 MP
40% mute to one foe. Curse-type.
Innate
Posumudi
5 MP
Removes poison from one ally.
Innate
Zan
3 MP
Small force damage to one foe.
Innate
Toxic Sting
7% HP
Small physical damage and 40% poison to one foe.
7
War Cry
40 MP
Decreases physical power by 2 levels, all foes.
8
Wing Buffet
9 MP
Small force damage to random foes.
9
Mazan
8 MP
Small force damage to all foes.
10
Void Nerve
Passive
Imparts immunity to nerve attacks. Overrides resistance and weakness.
11
Shin Megami Tensei: Strange JourneyEdit
Race

Alignment

Level

HP

MP

| | | |
| --- | --- | --- |
| Strength | 19 | |
| Magic | 17 | |
| Vitality | 18 | |
| Agility | 23 | |
| Luck | 17 | |

Raptor
Dark-Law
28
247
131
| Attack Type | | | | | | | | | |
| --- | --- | --- | --- | --- | --- | --- | --- | --- | --- |
| Single foe/1/Gun/None | - | Weak | - | Weak | - | - | - | Strong | - |
| Poison | Paralyze | Stone | Strain | Sleep | Charm | Mute | Fear | Bomb | Rage |
| --- | --- | --- | --- | --- | --- | --- | --- | --- | --- |
| Null | Null | 100% | 100% | 100% | 100% | 100% | 100% | 100% | 100% |
D-Source Skills
Blight
Resist Curse
Item Drops
Raptor Talon
Life Stone
Chakra Drop
Password
KrCRKrD$GLiAqyB4

-b6JTfDJcdtAKrCc
Shin Megami Tensei IVEdit
Race

Level

HP

MP

| | | |
| --- | --- | --- |
| Strength | 37 | |
| Dexterity | 34 | |
| Magic | 34 | |
| Agility | 44 | |
| Luck | 37 | |

Raptor
31
388
76
| Phys | Gun | Fire | Ice | Elec | Force | Light | Dark |
| --- | --- | --- | --- | --- | --- | --- | --- |
| - | - | - | - | - | - | - | Resist |
| | |
| --- | --- |
| Ailment Resistance | Null:Poison/Sick |
| | |
| --- | --- |
| Normal Attack | Phys x2, 1 enemy |
List of Skills

Skill
Cost
Effect
Level
Poison Breath
11 MP
70% poison to all foes.
Innate
Pandemic Bomb
11 MP
70% sick to all foes.
Innate
Fog Breath
45 MP
Debuffs all foes' attack and agility by 1 level.
32
Shin Megami Tensei IV ApocalypseEdit
Race

Level

HP

MP

| | | |
| --- | --- | --- |
| Strength | 34 | |
| Dexterity | 34 | |
| Magic | 29 | |
| Agility | 48 | |
| Luck | 43 | |

Raptor
31
266
142
| Phys | Gun | Fire | Ice | Elec | Force | Light | Dark |
| --- | --- | --- | --- | --- | --- | --- | --- |
| - | Weak | - | - | - | Resist | - | - |
| | |
| --- | --- |
| Ailment Resistance | Null:Poison/Sick |
| | |
| --- | --- |
| Normal Attack | Phys x2, 1 enemy |
List of Skills

Skill
Cost
Effect
Level
Poison Breath
15 MP
70% poison to all foes.
Innate
Pandemic Bomb
15 MP
70% sick to all foes.
Innate
Sukunda
25 MP
Debuffs all foes' agility by 1 level.
32
Resist Dark
Auto
Reduces dark damage.
33
Shin Megami Tensei: Devil SummonerEdit
| Race | Level | HP | MP | St | In | Ma | Ag | Lu |
| --- | --- | --- | --- | --- | --- | --- | --- | --- |
| Raptor | 40 | 173 | 150 | 7 | 7 | 13 | 14 | 8 |
| CP | NOA | Personality | P.ATK | P.HIT | B.DEF | AVD | M.ATK | M.DEF |
| --- | --- | --- | --- | --- | --- | --- | --- | --- |
| 40 | 1-2 | Insightful | 94 | 77 | 96 | 77 | 29 | 34 |
Digital Devil Saga: Avatar Tuner 2Edit
| Reflects | Absorbs | Void | Resists | Weak |
| --- | --- | --- | --- | --- |
| - | - | - | Force, Earth | Gun, Ice |
Model in Shin Megami Tensei IMAGINE
Model in Shin Megami Tensei III: Nocturne
Sprite in Card Summoner