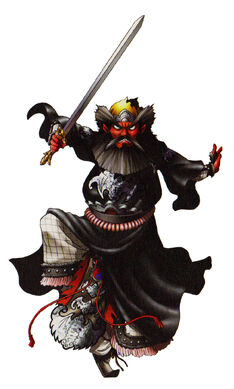 Zhong Kui (鍾馗), also known as Shouki (ショウキ, Shōki)?, is a demon in the series.
In Taoism Zhong Kui was a man who desired to be the Emperor's personal physician. He was said to be unpleasant to look at and had a disfigured face. Despite exceling in the Imperial Exams, the Emperor of China refused to grant Zhong Kui the position of physician because of his appearance. Distraught, Zhong Kui committed suicide by bashing his head repeatedly at the imperial gates.
One night when the Emperor was gravely ill, he had a dream in where he saw two Mo Guai (demons). The bigger demon, who was wearing an official's hat, ripped out the smaller demon's eye and ate it. The bigger demon then introduced himself as Zhong Kui. He said that he had sworn to rid the empire of evil. When the Emperor awoke, he was cured of his illness. His worship eventually spread to Japan.
Appearances
Edit
Devil Summoner: Soul HackersEdit
"

Zhong Kui of Chinese lore, he is a god that can command ghosts and spirits. One day, when the Emperor Xuanzong was sick, he had a dream where a ghost appeared and tormented him, but Zhong Kui destroyed it. After waking up from the dream, the emperor was cured of his illness. As a human, he committed suicide after failing an exam to become an imperial official, but Emperor Gaozu gave him an honorable burial. To repay the emperor, Zhong Kui swore to rid the world of demons.

"
—Devil Summoner: Soul Hackers 3DS Compendium
Shin Megami Tensei: PersonaEdit
Shouki is the third Persona of the Hierophant Arcana. As it gains ranks, its Magic Defense and Vitality are the sole stats to increase and upon being returned to the Velvet Room at MAX Rank, it will yield a Megaton Glove weapon for Reiji.
Shin Megami Tensei IVEdit
Race

Level

HP

MP

| | | |
| --- | --- | --- |
| Strength | 70 | |
| Dexterity | 62 | |
| Magic | 49 | |
| Agility | 56 | |
| Luck | 46 | |

Kishin
50
567
112
| Phys | Gun | Fire | Ice | Elec | Force | Light | Dark |
| --- | --- | --- | --- | --- | --- | --- | --- |
| - | - | - | - | - | Weak | Null | Resist |
| | |
| --- | --- |
| Ailment Resistance | Null: Poison/Sick |
| | |
| --- | --- |
| Normal Attack | Physical, one hit, one enemy |
List of Skills

Skill
Cost
Effect
Level
Berserker God
12 MP
Heavy physical damage to one foe.
Innate
Rakunda
15 MP
Debuffs all foes' defense by 1 level.
Innate
Null Nerve
Auto
Immunity against poison, bind, sick and brand.
52
Shin Megami Tensei IV ApocalpyseEdit
Race

Level

HP

MP

| | | |
| --- | --- | --- |
| Strength | 85 | |
| Dexterity | 50 | |
| Magic | 38 | |
| Agility | 52 | |
| Luck | 74 | |

Kishin
50
596
182
| Phys | Gun | Fire | Ice | Elec | Force | Light | Dark |
| --- | --- | --- | --- | --- | --- | --- | --- |
| - | - | Resist | - | - | Weak | Resist | - |
Ailment Resistance

Weak

: Poison/Sick
| | |
| --- | --- |
| Normal Attack | Phys x1, 1 enemy |
List of Skills

Skill
Cost
Effect
Level
Imposing Stance
50 MP
Removes one press turn icon on foe's next turn .
Innate
Javelin Rain
25 MP
Medium physical damage to all foes.
Innate
Rakunda
25 MP
Debuffs all foes' defense by 1 level.
51
Berserker God
13 MP
Heavy physical damage to one foe.
52
Null Nerve
Auto
Immunity against poison, bind, sick and daze.
53
Shin Megami Tensei: Devil SummonerEdit
| Race | Level | HP | MP | St | In | Ma | Ag | Lu |
| --- | --- | --- | --- | --- | --- | --- | --- | --- |
| Kishin | 47 | 332 | 225 | 19 | 13 | 15 | 9 | 8 |

| CP | NOA | Personality | P.ATK | P.HIT | B.DEF | AVD | M.ATK | M.DEF |
| --- | --- | --- | --- | --- | --- | --- | --- | --- |
| 65 | 1 | Vigorous | 132 | 85 | 108 | 84 | 36 | 43 |
Devil Summoner: Soul HackersEdit
| Race | Level | HP | MP | St | In | Ma | En | Ag | Lu |
| --- | --- | --- | --- | --- | --- | --- | --- | --- | --- |
| Kishin | 47 | 442 | 174 | 20 | 9 | 11 | 14 | 11 | 8 |

| CP | MAG Summon | Personality | P.ATK | P.HIT | B.DEF | AVD | M.ATK | M.HIT |
| --- | --- | --- | --- | --- | --- | --- | --- | --- |
| 7 | 559 | Calm | 134 | 74 | 138 | 74 | 98 | 28 |
| Reflects | Absorbs | Void | Resists | Weak |
| --- | --- | --- | --- | --- |
| - | - | Elec, Expel | - | - |
Megami Ibunroku Persona
Edit
MAtk
MDef

| | | |
| --- | --- | --- |
| Strength | 15 | |
| Vitality | 20 | |
| Dexterity | 17 | |
| Agility | 10 | |
| Luck | 16 | |

57
82
1h
2h
Sp
Ax
Wp
Th
Ar
Fs
HG
MG
SG
Ri
Te
Ru
-
-
-
-
-
-
-
-
-
-
-
-
-
-
Fi
Ic
Wi
Er
El
Nc
Bl
Gr
Ex
Mi
De
Cu
Nr
???

3

/

4

3

/

4

3

/

4

3

/

4

3

/

4

3

/

4

3

/

4

3

/

4
Dr

½

Rf
2×
2×

3

/

4

1

/

4
List of Skills

Rank
Skill
Effect
1
Tarunda
Lowers Attack (all foes)
3
Estoma
Wards off weak foes
4
Destruction Smash
Heavy Axe damage (1 foe)
7
Paral Eyes
Inflict Parayze status (1 foe)
8
Rakunda
Lowers Defense (all foes)