Ad blocker interference detected!
Wikia is a free-to-use site that makes money from advertising. We have a modified experience for viewers using ad blockers

Wikia is not accessible if you've made further modifications. Remove the custom ad blocker rule(s) and the page will load as expected.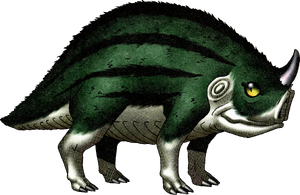 Zhu Tun She also known as Chotonda (チョトンダ, Chotonda)? is a demon in the series.
Appearances
Edit
Shin Megami Tensei: Strange JourneyEdit
"A monster snake said to be sighted around the Song dynasty.
It is about three feet long, has four legs, is covered in fur, and squeals like a pig. Because there is no animal that remotely fits the description, it is believed to be a completely unknown creature."
—Strange Journey Compendium
Shin Megami Tensei IV ApocalypseEdit
Zhu Tun She appears throughout the Ueno area. It grants the Bufu and Lunge skills during Demon Whisper.
DemiKids Light & DarkEdit
"

A pair of hogs that hide in a watermelon patch to attack any unwary travelers.

"
—DemiKids Demonary
Known as Chot, he is one of five hidden demons. In Dark Version he is outside the Wind Shrine at Wind Dem, check the rocks on the lower part of the dirt path. The rightmost rock will be his hiding spot. In Light Version he is found south of Hermit on the southeastern side of the stone wall that leads to Hermit. "Atlus" is the password one must enter to recruit him. Chot can perform the Earth based Combo Earth Hammer with Arakneus.
Shin Megami Tensei: Strange JourneyEdit
Race

Alignment

Level

HP

MP

| | | |
| --- | --- | --- |
| Strength | 15 | |
| Magic | 10 | |
| Vitality | 11 | |
| Agility | 10 | |
| Luck | 9 | |

Drake
Dark-Chaos
15
148
78
| Attack Type | | | | | | | | | |
| --- | --- | --- | --- | --- | --- | --- | --- | --- | --- |
| Single Foe/1/Physical/None | - | - | - | - | - | - | Weak | Weak | - |
| Poison | Paralyze | Stone | Strain | Sleep | Charm | Mute | Fear | Bomb | Rage |
| --- | --- | --- | --- | --- | --- | --- | --- | --- | --- |
| - | - | - | - | - | - | - | - | - | - |
D-Source Skills
Bufula
Tarukaja
Item Drops
Drake Stripes
Life Stone
Bead
Password
4AG6YX5$2O$C2uM6

%3ad2VK62GLz2GKQ
Shin Megami Tensei IVEdit
Race

Level

HP

MP

| | | |
| --- | --- | --- |
| Strength | 15 | |
| Dexterity | 15 | |
| Magic | 15 | |
| Agility | 15 | |
| Luck | 15 | |

Drake
9
180
35
| Phys | Gun | Fire | Ice | Elec | Force | Light | Dark |
| --- | --- | --- | --- | --- | --- | --- | --- |
| - | Null | - | Null | - | - | Weak | - |
| | |
| --- | --- |
| Normal Attack | Phys x1, 1 enemy |
List of Skills

Skill
Cost
Effect
Level
Lunge
6 MP
Weak physical damage to one foe. High critical but low accuracy.
Innate
Rakunda
15 MP
Debuffs all foes' defense by 1 level.
Innate
Light Mana Aid
Auto
Recovers MP lightly after victory.
11
Shin Megami Tensei IV ApocalpyseEdit
Race

Level

HP

MP

| | | |
| --- | --- | --- |
| Strength | 20 | |
| Dexterity | 12 | |
| Magic | 8 | |
| Agility | 16 | |
| Luck | 14 | |

Drake
8
143
45
| Phys | Gun | Fire | Ice | Elec | Force | Light | Dark |
| --- | --- | --- | --- | --- | --- | --- | --- |
| - | Resist | - | Resist | Weak | - | Weak | - |
| | |
| --- | --- |
| Normal Attack | Phys x1, 1 enemy |
List of Skills

Skill
Cost
Effect
Level
Lunge
6 MP
Weak physical damage to one foe. High critical but low accuracy.
Innate
Bufu
5 MP
Weak ice damage to one foe.
9
Devil Summoner: Soul HackersEdit
| Race | Level | HP | MP | St | In | Ma | En | Ag | Lu |
| --- | --- | --- | --- | --- | --- | --- | --- | --- | --- |
| Drake | 12 | 120 | 40 | 7 | 3 | 4 | 6 | 5 | 4 |

| CP | MAG Summon | P.ATK | P.HIT | B.DEF | AVD | M.ATK | M.HIT |
| --- | --- | --- | --- | --- | --- | --- | --- |
| 4 | 287 | 38 | 20 | 52 | 20 | 33 | 10 |
| Reflects | Absorbs | Void | Resists | Weak |
| --- | --- | --- | --- | --- |
| Death | - | - | - | Expel |
DemiKids: Light & DarkEdit
| Class | Element | Type | Level | HP | MP | Exp |
| --- | --- | --- | --- | --- | --- | --- |
| Common | Earth | Beast | 8 | 96 | 32 | |

| ATK | DEF | MGC | RES | SPD | LCK |
| --- | --- | --- | --- | --- | --- |
| 12 | 9 | 9 | 9 | 8 | 10 |
List of Skills

Skill
Element
Cost
Effect
Petra
Earth
5 MP
Small dmg. 1 Foe
Heal
Light
5 MP
Minor HP recovery. 1 Ally
Chomp
Dark
10 HP
No DEF Medium dmg. 1 Foe
Glow
Light
10 MP
Small dmg. 1 Foe
Stone Shot
Earth
15 HP
Small dmg +ACC Down. 1 Foe
Teleport
Light
10 MP
Teleport Party
Devil Children Fire/Ice BookEdit
| Class | Element | Type | Level | HP | MP | Exp |
| --- | --- | --- | --- | --- | --- | --- |
| Common | Earth | Beast | 8 | 96 | 32 | |

| ATK | DEF | MGC | RES | SPD | LCK |
| --- | --- | --- | --- | --- | --- |
| 12 | 9 | 9 | 9 | 8 | 10 |