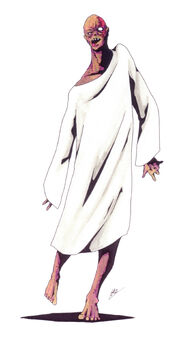 Zombie (ゾンビ?) is a demon in the series.
Zombies are a prevalent popular culture icon in the horror genre. Originated from tales of Afro-Caribbean origin, possibly in Haiti, where the belief and practice of the Vodou is commonplace. A zombie is a reanimated corpse without speech or free-will, believed to have been evoked back to life by a powerful sorcerer and made to serve as his/her servant.
Appearances
Edit
Shin Megami TenseiEdit

"Origin: Haiti. Humans brought back to life without souls. Demons rip out the souls of criminals and villans to control their bodies. It is said that the victims of zombies become zombies themselves."
—Shin Megami Tensei A-Mode DDS Dictionary
Devil Summoner 2: Raidou Kuzunoha vs. King AbaddonEdit
"An undead demon that appeared in the Capital. It is a lower-class being with no real mind of its own. It is similar to the zombies created through Vodoo, but different in its manner of creation."
Megami TenseiEdit
Megami Tensei IIEdit
| Stamina | Intelligence | Attack | Agility | Luck | Defense |
| --- | --- | --- | --- | --- | --- |
| 5 | 5 | 4 | 5 | 5 | 1 |
Kyūyaku Megami TenseiEdit
Megami TenseiEdit
| Race | Level | HP | MP | VIT | INT | STR | SPD | LUC | DEF |
| --- | --- | --- | --- | --- | --- | --- | --- | --- | --- |
| Spirit | 3 | 10 | - | 5 | 5 | 4 | 6 | 5 | 4 |
Swd
Gun
Fir
Ice
Elc
Exp
For
Bnd
Crs
Nrv
Mnd
-

4

/

8
2.5×

3

/

8
Dr
3×
-
-
Nu
Nu
-
List of Spells

Skill
Cost
Effect
Poison Fang
Extra
Damage + Poison one enemy
Megami Tensei IIEdit
| Race | Level | HP | MP | VIT | INT | STR | SPD | LUC | DEF |
| --- | --- | --- | --- | --- | --- | --- | --- | --- | --- |
| Spirit | 2 | 7 | - | 5 | 5 | 4 | 5 | 5 | 1 |
Swd
Gun
Fir
Ice
Elc
Exp
For
Bnd
Crs
Nrv
Mnd
-

4

/

8
2.5×

3

/

8
Dr
3×
-
-
Nu
Nu
-
List of Spells

Skill
Cost
Effect
Defend
-
Decrease damage taken (enemy only)
Call Ally
-
Summon allies (enemy only)
Poison Fang
Extra
Damage + Poison one enemy
Shin Megami TenseiEdit
| CP | NOA | ATK | ACC | DEF | EVA | M.ATK | M.EFC |
| --- | --- | --- | --- | --- | --- | --- | --- |
| 1 | 1-3 | 7 | 3 | 11 | 3 | 6 | 7 |

| | | |
| --- | --- | --- |
| St | 2 | |
| In | 6 | |
| Ma | 5 | |
| Vi | 5 | |
| Ag | 2 | |
| Lu | 1 | |
| | | | |
| --- | --- | --- | --- |
| Resistances | Weak to Fire and Expel, resists Ice and Elec | Drop | Medicine |
Swd
Gun
Fir
Ice
Elc
For
Nrv
Exp
Crs
Mgc
Bnd
Chg
Dex
Ndl
Alm
-

4

/

8
2×

2

/

8

2

/

8

4

/

8

4

/

8
3×
Nu
-

6

/

8

4

/

8

6

/

8
Nu
-
List of Skills

Skill
Cost
Effect
Guard
-
Reduces damage taken by user. (Enemy-only)
Venom Bite
Extra
Bites one enemy and Poisons it. (Charge-type)
Shin Megami Tensei IIEdit
| CP | NOA | ATK | ACC | DEF | EVA | M.ATK | M.EFC |
| --- | --- | --- | --- | --- | --- | --- | --- |
| 4 | 0-1 | 14 | 10 | 16 | 10 | 5 | 6 |

| | | |
| --- | --- | --- |
| St | 2 | |
| In | 5 | |
| Ma | 4 | |
| Vi | 3 | |
| Ag | 2 | |
| Lu | 2 | |
Swd
Gun
Fir
Ice
Elc
For
Nrv
Exp
Crs
Mgc
Bnd
Rsh
Hnd
Leg
Fly
Alm
-

6

/

8
1.5×

6

/

8

6

/

8
-

4

/

8
2×
Nu
-
-
-
-
-
-
-
List of Skills

Skill
Cost
Effect
Venom Claw
5% HP
Light Punch attack to 2 foes. Inflicts Poison.
Rest
5% HP
Restores HP equivalent to three times the cost for activating this skill.
Feral Bite
3% HP
Light Rush damage to one foe.
Call Ally
-
Summon allies (Enemy only)
Majin Tensei II: Spiral NemesisEdit
| Race | Level | HP | MP | Mv Range | Mv Type | Atk Range | MAG |
| --- | --- | --- | --- | --- | --- | --- | --- |
| Foul | 4 | 45 | 12 | 6 | Walk | 1 | 160 |

| St | Ma | In | Ag | Lu | Atk | P.Def | M.Atk | M.Def | Hit | Eva | Crt |
| --- | --- | --- | --- | --- | --- | --- | --- | --- | --- | --- | --- |
| 5 | 5 | 6 | 2 | 2 | 14 | 3 | 3 | 9 | 84 | 3 | 16 |
List of Skills

Skill
Power
Range
Cost
Target
Effect
Para-roux
-
1
12 MP
Single
Gives Paralyze status to one enemy
Bite
100%
1
P. Extra
Single
70% chance to inflict Close
Devil Summoner 2: Raidou Kuzunoha vs. King AbaddonEdit
| Order | Level | HP | St | Ma | Vi | Lu | Conversation | Investigation |
| --- | --- | --- | --- | --- | --- | --- | --- | --- |
| Evil | 8 | 144 | 11 | 6 | 4 | 6 | Panic Urge | |
| Reflects | Absorbs | Block | Resists | Weak | Frail |
| --- | --- | --- | --- | --- | --- |
| - | - | Death, Mind | - | Physical | Fire, Force |
List of Skills

Skill
Cost
Effect
Level
Venomstrike
18 MAG
Light Phys dmg to an enemy +Poison(Med)
Innate
Dia
10 MAG
Slightly restores HP. 1 Ally
9
Finders Keepers
Passive
Find items while walking
Max Loyalty
Giten Megami Tensei: Tokyo MokushirokuEdit
| Race | Alignment | Level | HP | MP | CP |
| --- | --- | --- | --- | --- | --- |
| Akuma | Dark-Chaos | 4 | 33 | 22 | 7 |

| Intuition | Will Power | Magic | Intelligence | Divine Protection |
| --- | --- | --- | --- | --- |
| 8 | 10 | 5 | 6 | 8 |

| Strength | Stamina | Agility | Dexterity | Charm |
| --- | --- | --- | --- | --- |
| 12 | 8 | 5 | 7 | 5 |
| Race | Alignment | Level | HP | MP | CP |
| --- | --- | --- | --- | --- | --- |
| Undead | Dark-Neutral | 5 | 58 | 28 | 10 |

| Intuition | Will Power | Magic | Intelligence | Divine Protection |
| --- | --- | --- | --- | --- |
| 5 | 7 | 7 | 8 | 6 |

| Strength | Stamina | Agility | Dexterity | Charm |
| --- | --- | --- | --- | --- |
| 11 | 17 | 7 | 11 | 3 |
| Race | Alignment | Level | HP | MP | CP |
| --- | --- | --- | --- | --- | --- |
| Undead | Dark-Neutral | 14 | 219 | 69 | 22 |

| Intuition | Will Power | Magic | Intelligence | Divine Protection |
| --- | --- | --- | --- | --- |
| 8 | 11 | 11 | 11 | 8 |

| Strength | Stamina | Agility | Dexterity | Charm |
| --- | --- | --- | --- | --- |
| 17 | 28 | 14 | 9 | 4 |
List of Skills

Death Touch
Poison Bite
Digestive Fluids
Buki na Tekazashi
Self-Recovery