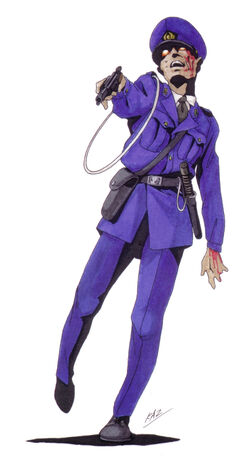 Zombie Cop (ゾンビコップ, Zonbi Koppu)? is a demon in the series.
A police officer who has risen as one of the undead.
Appearances
Edit
Shin Megami TenseiEdit
Shin Megami Tensei IVEdit
Flynn
the Shibaboo skill through his Demon Whisper.
Shin Megami Tensei IV ApocalypseEdit
As in the previous game, Zombie Cop cannot be recruited with the Scout skill, he can only be obtained as an ally by making him beg for his life or by volunteering to join when Scout+ is triggered when recruiting a different demon alongside him in combat. He can also be obtained through DDS Streetpass fusion.
Zombie Cop can be found within the Toyosu Shelter and the Konganji Passage within Ginza. He can teach the Cough, Rapid Needle and Panic Voice skills through his Demon Whisper.
Megami Ibunroku PersonaEdit
Shin Megami TenseiEdit
| CP | NOA | ATK | ACC | DEF | EVA | M.ATK | M.EFC |
| --- | --- | --- | --- | --- | --- | --- | --- |
| 3 | ? | 25 | 7 | 12 | 6 | 6 | 7 |

| | | |
| --- | --- | --- |
| St | 8 | |
| In | 6 | |
| Ma | 5 | |
| Vi | 5 | |
| Ag | 5 | |
| Lu | 3 | |
| | | | |
| --- | --- | --- | --- |
| Resistances | Weak to Fire and Expel, resists Ice and Elec | Drop | New Nambu |
Swd
Gun
Fir
Ice
Elc
For
Nrv
Exp
Crs
Mgc
Bnd
Chg
Dex
Ndl
Alm
-

4

/

8
2×

2

/

8

2

/

8

4

/

8

4

/

8
3×
Nu
-

6

/

8

4

/

8

6

/

8
Nu
-
List of Skills

Skill
Cost
Effect
Guard
-
Reduces damage taken by user. (Enemy-only)
Venom Claw
Extra
Claws two enemies and Poisons them. (Dex-type)
Call Ally
-
Summons reinforcement. (Enemy-only)
Shin Megami Tensei IVEdit
Race

Level

HP

MP

| | | |
| --- | --- | --- |
| Strength | 28 | |
| Dexterity | 25 | |
| Magic | 20 | |
| Agility | 23 | |
| Luck | 19 | |

Undead
17
256
50
| Phys | Gun | Fire | Ice | Elec | Force | Light | Dark |
| --- | --- | --- | --- | --- | --- | --- | --- |
| - | - | Weak | - | - | - | Weak | Null |
| | |
| --- | --- |
| Ailment Resistance | Null:Bind/Sick |
| | |
| --- | --- |
| Normal Attack | Gun x1, 1 enemy |
List of Skills

Skill
Cost
Effect
Level
Shibaboo
5 MP
50% bind to one foe.
Innate
Healing Knowhow
Auto
Allows equipper to use healing items in battle.
18
Shin Megami Tensei IV ApocalpyseEdit
Race

Level

HP

MP

| | | |
| --- | --- | --- |
| Strength | 19 | |
| Dexterity | 30 | |
| Magic | 16 | |
| Agility | 23 | |
| Luck | 20 | |

Undead
17
201
77
| Phys | Gun | Fire | Ice | Elec | Force | Light | Dark |
| --- | --- | --- | --- | --- | --- | --- | --- |
| - | - | Weak | - | - | - | Weak | Null |
| | |
| --- | --- |
| Ailment Resistance | Null:Bind/Sick |
| | |
| --- | --- |
| Normal Attack | Gun x1, 1 enemy |
Skill Affinities

Ailment

+5

· Dark

+2

· Gun

+1

· Fire

-3

· Light

-3

· Healing

-5
List of Skills

Skill
Cost
Effect
Level
Cough
4 MP
90% sick to one foe.
Innate
Rapid Needle
5 MP
Weak gun damage to all foes.
Innate
Panic Voice
20 MP
70% panic to all foes.
18
Megami Ibunroku PersonaEdit
| Order | Type | Subtype | Level | HP | SP | Drops |
| --- | --- | --- | --- | --- | --- | --- |
| Grave | Force | Normal | 11 | 110 | 135 | Dis-Para |

MAtk
MDef

| | | |
| --- | --- | --- |
| Strength | 18 | |
| Vitality | 13 | |
| Dexterity | 8 | |
| Agility | 9 | |
| Luck | 11 | |

52
39
1h
2h
Sp
Ax
Wp
Th
Ar
Fs
HG
MG
SG
Ri
Te
Ru

1

/

4

1

/

4

1

/

4

1

/

4

1

/

4
2×

1

/

4
2×
Nu
Nu
Nu
Nu

1

/

4

1

/

4
Fi
Ic
Wi
Er
El
Nc
Bl
Gr
Ex
Mi
De
Cu
Nr
???
2×
2×
2×
2×
2×
2×
2×
2×
2.5×
2.5×
Nu
Nu
Nu
-
List of Skills

Skill
Effect
Single Shot
Light Handgun damage (1 foe)
Stun Claw
Light Tech damage+Paralyze (1 foe)