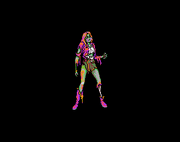 Zombie Lady (レディーゾンビ, Redii zonbi)? or She Zombie (シーゾンビ, Shii zonbi)? is a demon in the series.
A female variant of the Zombie demon.
Appearances
Edit
Shin Megami TenseiEdit
"Origin: Tokyo. A young woman that has turned into a zombie. Unlike a Bodyconian, her body has deformed into an unsightly mass."
—Shin Megami Tensei A-Mode DDS Dictionary.
Devil Summoner 2: Raidou Kuzunoha vs. King AbaddonEdit
"

The passion from their previous life is warped into a compulsion to destroy, making them very dangerous. They swipe with the daggers they hold to kill anyone who approaches

"
—Gouma-Den Devil Chart
Shin Megami TenseiEdit
| CP | NOA | ATK | ACC | DEF | EVA | M.ATK | M.EFC |
| --- | --- | --- | --- | --- | --- | --- | --- |
| 2 | ? | 11 | 5 | 13 | 5 | 5 | 7 |

| | | |
| --- | --- | --- |
| St | 3 | |
| In | 6 | |
| Ma | 4 | |
| Vi | 6 | |
| Ag | 4 | |
| Lu | 3 | |
| | | | |
| --- | --- | --- | --- |
| Resistances | Weak to Fire and Expel, resists Ice and Elec | Drop | Fake Sword |
List of Skills

Skill
Cost
Effect
Guard
-
Reduces damage taken by user. (Enemy-only)
Call Ally
-
Summons reinforcement. (Enemy-only)
Stun Claw
Extra
Claws two enemies and Paralyzes them. (Dex-type)
Devil Summoner 2: Raidou Kuzunoha vs. King AbaddonEdit
| Order | Level | HP | St | Ma | Vi | Lu | Conversation | Investigation |
| --- | --- | --- | --- | --- | --- | --- | --- | --- |
| Evil | 13 | 208 | 5 | 15 | 5 | 7 | Panic Urge | |
| Reflects | Absorbs | Block | Resists | Weak | Frail |
| --- | --- | --- | --- | --- | --- |
| - | - | Mind, Death | - | Physical | Fire, Force |
List of Skills

Skill
Cost
Effect
Level
Marin Karin
16 MAG
Light Mind dmg to an area +Charm(Med)
Innate
Dormina
16 MAG
Light Mind dmg to an area +Sleep(Med)
14
Pulinpa
16 MAG
Light Mind dmg to an area +Panic(Med)
15
Money-Getter
Passive
Find money while walking
Max Loyalty
Giten Megami Tensei: Tokyo MokushirokuEdit
| Race | Alignment | Level | HP | MP | CP |
| --- | --- | --- | --- | --- | --- |
| Undead | Dark-Neutral | 6 | 70 | 31 | 11 |

| Intuition | Will Power | Magic | Intelligence | Divine Protection |
| --- | --- | --- | --- | --- |
| 5 | 8 | 7 | 8 | 6 |

| Strength | Stamina | Agility | Dexterity | Charm |
| --- | --- | --- | --- | --- |
| 12 | 18 | 8 | 10 | 3 |