Ad blocker interference detected!
Wikia is a free-to-use site that makes money from advertising. We have a modified experience for viewers using ad blockers

Wikia is not accessible if you've made further modifications. Remove the custom ad blocker rule(s) and the page will load as expected.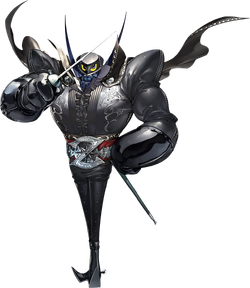 Zorro (ゾロ, Zoro)? is a Persona in the series.
Zorro (Spanish for "fox" and "sly") is a fictional character created in 1919 by New York–based pulp writer Johnston McCulley. His true name is Don Diego de la Vega. Zorro is a Californio nobleman of Spanish and Native Californian descent, living in Los Angeles during the reign of the Spanish. He is a masked outlaw who defends commoners and the indigenous people of the land against tyrannical officials and other villains.
Appearances
Edit
Persona 5Edit
Zorro is the Initial Persona of Morgana. He is dressed in a black costume, and wields a rapier.
Arcana

Level

| | | |
| --- | --- | --- |
| Strength | 2 | |
| Magic | 3 | |
| Endurance | 2 | |
| Agility | 1 | |
| Luck | 1 | |

Magician
1
List of Skills

Skill
Cost
Effect
Level
Garu

3 SP

Deal weak Wind damage to 1 foe.
Innate
Dia

3 SP

Restore small amount of HP of 1 ally.
Innate
Patra

4 SP

Cure Dizzy/Forget/Sleep/Hunger of 1 ally.
5
Media

7 SP

Restore small amount of HP of party.
11
Lucky Punch

3% HP

Deal minuscule Phys damage to 1 foe, high critical rate.
13
Magaru

8 SP

Deal weak Wind damage to all foes.
16
Me Patra

8 SP

Cure Dizzy/Forget/Sleep/Hunger of party.
21
Diarama

6 SP

Restore moderate amount of HP of 1 ally.
24
Garula

6 SP

Deal medium Wind damage to 1 foe.
26
Recarm

8 SP

Revive 1 ally with 50% HP.
28
Wind Break

15 SP

Negate Wind resistance of 1 foe.
32
Mediarama

12 SP

Restore moderate amount of HP of party.
34
Magarula

14 SP

Deal medium Wind damage to all foes.
37
Miracle Punch

8% HP

Deal medium Phys damage to 1 foe, high critical rate.
40
Wind Boost
Auto
Strengthen Wind attacks by 25%.
43
Samarecarm

18 SP

Revive 1 ally with maximum HP.
45
Diarahan

18 SP

Fully restore HP of 1 ally.
49
Garudyne

10 SP

Deal heavy Wind damage to 1 foe.
52
Masukunda

24 SP

Debuff agility of all foes for 3 turns.
55
Mediarahan

30 SP

Fully restore HP of party.
58
Magarudyne

20 SP

Deal heavy Wind damage to all foes.
62
Wind Amp
Auto
Strengthen Wind attacks by 50%.
69
Salvation

48 SP

Fully restore HP of party and cure all non-unique ailments.
75